Sun Pop Life Brand Video - About Us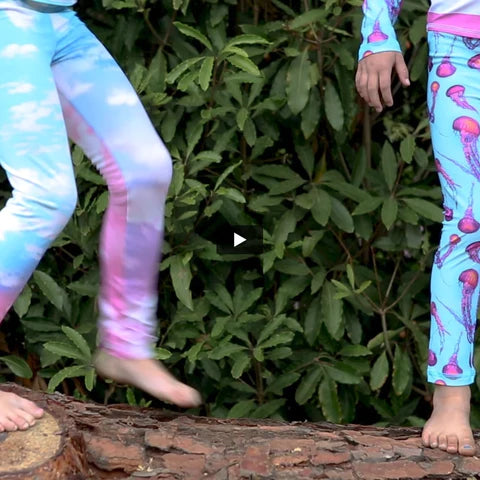 Sun Pop Life's mission is to make the task of sun protection fast, easy and fun, shorten time applying sunscreen and provide stress-free sun protection confidence. Our sun protective clothing brand offers re-imagined, well-made multifunctional styles that your kids will want to wear.
Seeing children having fun under the sun is priceless, chasing after them to apply and reapply sunscreen or caring for their sunburned skin is not fun at all. So we created Sun Pop Life, sun protection your kids will actually want to wear. 
Meet Greg and Gisela Hinsdale, co-founders of Sun Pop Life.  A Chemical-free UPF 50+ sun protective kid's clothing brand - toddlers to teens - offering the highest sun protection rating possible - blocking 99.8% of UVA & UVB sun rays so, children have fun under the sun in style while providing parents stress-free sun protection confidence so, everyone can relax and enjoy.
With a fashion background, both Greg (fashion lifestyle photographer) and Gisela (former fashion model & merchandiser ) joined their talents to provide a more exciting and unique sun protecting clothing brand by combining photography with illustrations to create unique photo prints that you will not find anywhere else. These photo prints are then printed onto the best UPF performance fabrics available in the market offering a variety of features such as; permanent UPF, quick-dry, moisture wicking, odor resistance, chlorine resistance and easy care guidelines; machine wash and tumble dry. 
Selecting sun protective clothing for kids in the marketplace today comes down to understanding the difference between temporary vs. permanent sun protection properties, the different UPF's ratings available and the benefits of using rash guards and leggings in conjunction with sunscreen to protect your children's skin during extended exposure to the UV rays. Because 25% of sun damage occurs before children's18th birthday, we need to instill in our children the importance of protecting their skin since an early age.
While there is no substitute for sunscreen usage, a combination of sun protective clothing and sunscreen - for the hard to reach areas - is the perfect combination. The goal is to get children feel comfortable in our rash guards sets, they love what they are wearing and want to wear these clothes to make sun protecting your kids easier for you. 
Stress-free, super fast multifunctional sun protection for the family - adult collection coming soon! 
SPF (Sun Protection Factor) is a measure of sunscreen's ability to prevent UVB sun rays from damaging the skin. UPF (Ultraviolet Protection Factor) is a numerical rating system given to clothing to show how the fabric blocks Ultraviolet (UV) radiation, in other words, think of UPF as the equivalent of SPF for fabric and UPF rated fabrics are recommended by The Skin Cancer Foundation.