Parent Designed, Daughter Approved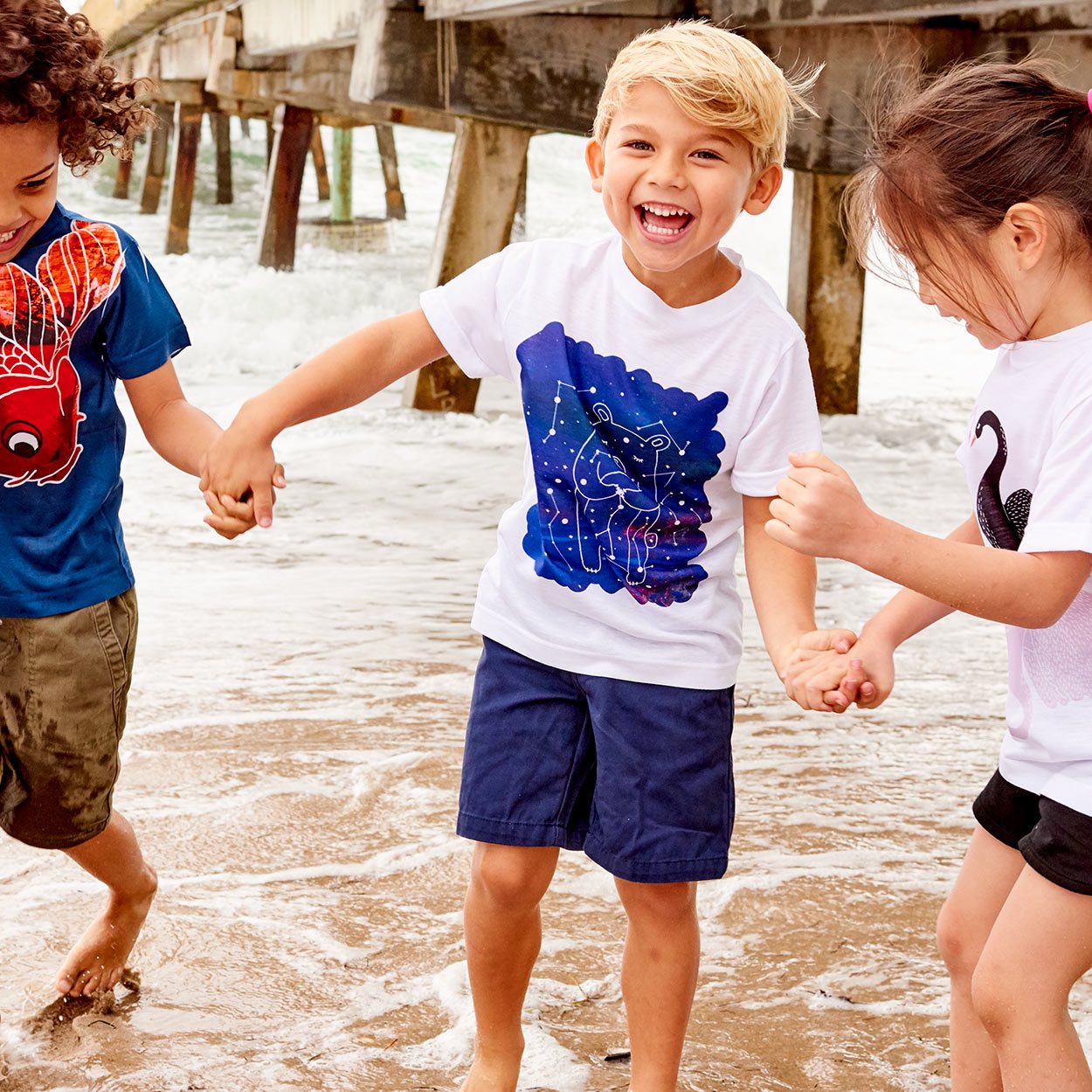 CREATING SUN POP LIFE ORIGINALS
Sun Pop Life is a family business dedicated to producing the highest quality, sun protective kids' clothing. What sets this kidswear apart is the limited edition designs unique only to Sun Pop Life product. Gisela, is founder and the creative force behind the artistic designs, garment construction, and every detail of the product. Greg, her husband and co-owner, is a talented commercial lifestyle photographer credited with all of the Sun Pop Life product / lifestyle photography and videos. Together they are dedicated to creating kids' clothing that their daughter, Halston,  and other boys and girls will love to wear. 
GISELA SHARES HER INSPIRATION  AND PROCESS
The best thing about being an entrepreneur, well a mompreneur - is the freedom to have lunch with Greg whenever I want, or attend Halston's art show at 2 pm without having to ask for permission. My best time of day to create is very late at night or very early in the morning. Basically, when I am by myself in silence totally immersed in an idea without interruptions, my creative muse comes to visit. Sometimes I would like to sleep, but there is so much to do!
My creative process can be described as Kaleidoscopic.  A space where improvement meets aesthetics, trial and error enhances functionality and leads to an enduring solution. Fashion & color trends and specifics on consumer trends related to kidswear fine tune my creative process.  
I am inspired by everything that surrounds me.  How things work, come to be, look, sound, feel, smell and relate to my life from childhood to adulthood.  I am also influenced by memories of my life, places I traveled to and lived, and people I have met. My husband's tenacity inspires me and reminds me of my own. My daughter Halston's impetus for life, love for art and imagination also has a tremendous impact in my life. 
When it comes to kids' clothing, people often don't realize that buying the same clothing in multiples is not the best solution.  The reality is that kids are drawn to wearing the same thing over and over; clean or dirty. It is better to buy fewer pieces of the best quality, which makes each piece more affordable and sustainable because of lower cost per wearing. Otherwise, duplicate brand new items often go unworn before being outgrown. So, why not adopt the athleisure approach, invest in fewer pieces that are multifunctional and interchangeable, designed with fast-growing kids in mind and specific features. Then you can let your kids become autonomous when it comes to simple decisions such as what to wear.
The most rewarding thing about being a mom is guiding my daughter's learning process, learning new things together, teaching her things I know, and seeing her develop into her own person with a clear voice and opinions. Halston understands that I am working for a company that one day may become hers and she likes to help me with decisions and designs which is fun for both of us.  We designed the Lucky Unicorns together!  
... AND THIS DEDICATION TO DETAIL IS WHY OUR T-SHIRTS ARE SO UNIQUE
We took something as traditionally "vanilla" as a t-shirt and reconsidered all details, then added the "cherry on top" with unique designs like butterflies, koi fish, and constellations. Sun Pop Life super soft t-shirts are made to start out soft and get even softer with each wash. Simply machine wash normal and tumble dry with no worries of losing shape or fading. Our techno blend performance fabric is 100% spun poly which feels like cotton but is even better because the fabric dries quickly and pulls moisture away from the skin. The performance fabric is naturally wrinkled and stain resistant. 
Features include:
Printed graphics will not crack or fade after use or wash
Ribbed collar retains its shape wash after wash
Printed label on the back won't rub on the neck
Strategically reinforced shoulders and side seams for durability
Finished look with double-needle hem sleeves and bottom
Excellent for playing inside or outside... Kids love to wear Sun Pop Life t-shirts on repeat!